Give your lawn a boost with Lawnbright's Boost Pack. This is a one-time shipment (no subscription needed) designed specifically for Lawnbright customers in need of a summer green up. 
Whats in the Box?
- Green Machine: Balanced Liquid Lawn Fertilizer delivers all the mirco and macronutrients your lawn needs for the growings season, along with added seaweed and humic & fulvic acids to bioactivate your lawn.
- Iron Boost: Sugar Chelated Liquid Iron soil amendment provides a fast-acting source of iron to increase chlorophyll in any plant, making it rapidly greener without the growth. 
- 1 Hose end sprayer
Customer Reviews
100
reviewers would recommend this product
Write a Review
07/27/2022
Diane J.

United States
I recommend this product
Lawnbright first year customer
So far I am 100% impressed with quality, price and outcome of spring package, summer package, preventative **** product, existing **** product and now Boost package! My lawn has 2% **** compared to neighbors lawns paying $1K-$2K for their lawn services. My lawn is green and thick.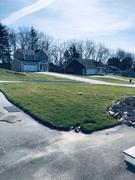 07/21/2022
Mike S.

United States
I recommend this product
Sea Green and Black Gold
These two items really helped my summer stressed yard stay green and healthy…highly recommended! Thanks Lawnbright for lawn care that is natural and effective!
11/29/2021
Gordon M.

United States
I recommend this product
Fall Tune up
Easy to use but too early to tell as far as results are concerned...